Print Management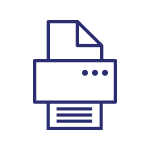 Are you experiencing challenges with your Remote Desktop Printing? We have software solutions that compliment Citrix, VMWare and Microsoft virtual and remote desktop environments.
Whether applications are delivered via Terminal Services, Citrix XenApp, VDI, or traditional Windows Workstations, we assist Australian companies to improve their printer and printer driver management each and every week.
Every week Delivio help Australian companies:
Improve the management of mixed 32 and 64 bit printer drivers within mixed server / workstation environments
Ensure they have the correct printing solution when migrating or upgrading their infrastructure
Improve their printing and print driver management within virtual environments including Citrix Xendesk
Our Vendors involved in Print Management
No matter what your challenge Bluechip Enterprise Solution can assist you.