Gaming Hard Drives & SSDs

NAS (Network Attached Storage)

Enterprise Storage Systems
Welcome to a better way to store data. For over 40 years, Seagate has been offering the most innovative and easily integrated storage services built on trust, affordability and performance. We consistently deliver a seamless experience at the best value. As the only enterprise storage manufacturer that designs and builds its entire system, Seagate creates unparalleled partner integration and compatibility.

40+ Years of Storage Innovation
Expand Your Enterprise with Industry-Leading Storage Density
Versatile architecture lets you easily scale your storage and simplify operations while optimising costs. Enjoy leading density enclosures, multi-unit expansion, superior reliability, simple administration and exceptional serviceability to take your data centre to the next level.
Expansion Shelves & JBOD Systems
| | |
| --- | --- |
| Exos E 2U24 | Exos E 2U12 |
| | |
| Nytro E 2U24 | Exos E 5U84 |
| | |
| Exos E 4U106 | Exos Corvault |
Seagate – Enterprise Solution Video – Backup & Recovery Solutions.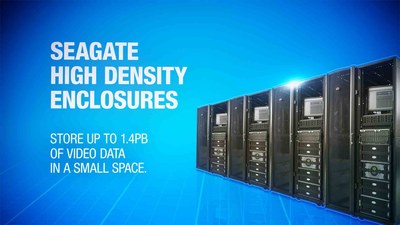 BarraCuda
Versatile. Fast. Dependable. Seagate's BarraCuda hard drives are perfect for laptop storage, mobile storage, all-in-one storage, and more.
IronWolf Pro
IronWolf Pro offers a workload rate of 300TB/year with scalable 24×7 performance that can handle multi-bay NAS environments.
Exos
The most scalable drives in the datasphere, Exos X series hard drives integrate the latest technology in support of a secure and reliable cloud data center.
FireCuda
Explosive Speed. Absolute Domination.
Delivering pure performance, absolute power, and unrivaled endurance.

SkyHawk
SkyHawk drives are smart, safe, and secure for NVR applications.
Nytro
Up to 15TB capacity, built for fast data center applications and an ideal solution for mission critical enterprise operations.

IronWolf
IronWolf provides a workload rate of 180TB/year with scalable 24×7 performance that can handle multi-bay NAS environments.

SkyHawk AI
A video-optimized drive, SkyHawk AI is designed for NVRs with artificial intelligence for edge applications.
Seagate Enterprise Systems
Expand your enterprise with industry-leading storage density.

Connect with Bluechip IT and Seagate today!
Tap into our experienced product specialist and book a time to discuss your technological requirements. Let's innovate the ever-so-changing world of technology together.