MTR_1899x483
Bluechip Infotech hailed as
ANZ Distributor of the Year!
MTR_1899x483
24/7 threat hunting, detection, and response delivered by an expert team as a fully-managed service
Switch_1899x483
Sophos' new access layer switches will enable your entire network stack to be managed from a single pane of glass.
ZTNA_1899x483
Zero Trust Network Access: Out Now!
Sophos ZTNA makes secure remote access
to corporate applications and data easy.
XG Firewall_1899x483
All XG devices have an announced EOL date!
Speak to your Sophos Account Manager now
for a migration plan to XGS now.
XG Firewall_1899x483
Be in control of how and where licenses are
distributed, allowing you the flexibility of
competitive pricing, instant roll-outs and monthly billing.
Industry Award-Winning Network Security
Bluechip Infotech has been announced the ANZ 2022 Distributor of the Year by Sophos for the 4th year running!
Sophos praised Bluechip for developing an "aggressive and innovative" marketing campaign that, from Sophos' perspective, increased awareness of its Synchronised Security products and product strategy.
With a dedicated sales, pre-sales, and product management team, Bluechip is honoured to be once again recognized for the significant effort & contributions we make every day to all the partners who choose to do business with us.
No matter where you are based in ANZ, the Bluechip Sophos product management team will be eager to help you with tailoring the Sophos experience to suit your business needs.
Chat to us today to get started!
Award Cabinet
Sophos receives 5 star rating in CRN Partner Program Guide 2022
Winner of Channel Futures Channel Influencer Award 2022
G2 Best Software Award Winner 2022
Sophos wins no.1 in Enterprise Endpoint Security – SE Labs 2021
Sophos Named a Leader for Endpoint Protection Platforms – Garter Magic Quadrant 2021
Named Customer's Choice for Endpoint – Gartner Peer Insights 2021
Bluechip Featured Promotions and Media
Product Unboxing: Sophos Switch
Join Bluechip Infotech's Sophos Product Manager, David Nguyen as he takes a quick hands on tour of the new Sophos Switches!
Latest on-demand webinars:
Click on the thumbnails below to watch these webinars.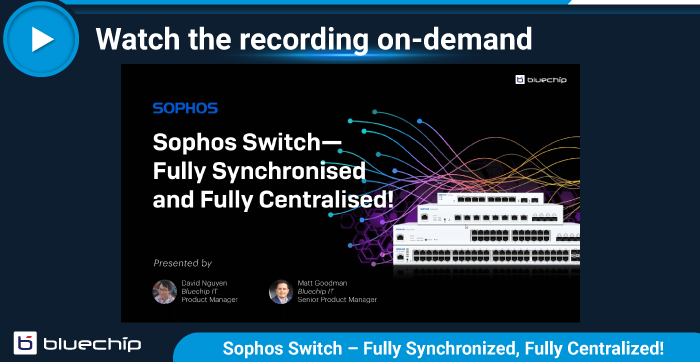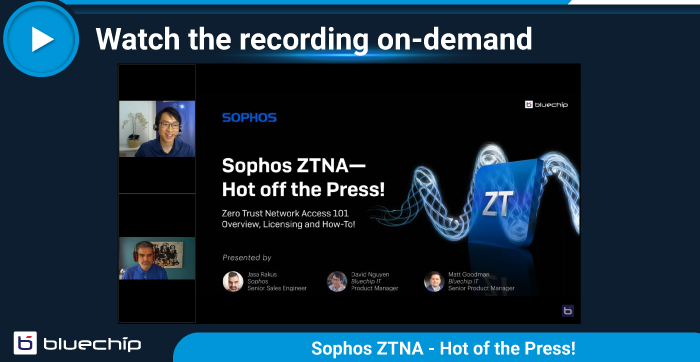 Sophos-Switch-Webinar-03.03.22
Sophos-Switch-Webinar-03.03.22
Sophos-Switch-Webinar-03.03.22
Sophos Networking Portfolio Overview + Central Demo
Sophos Switch Model Comparison + Hands on!
Complete Control and Transparency
Sophos Synchronized Security
Zero Touch Incidence Response
Sophos products share real-time information via a unique Security HeartbeatTM and then respond automatically, in seconds. It slashes your exposure to threats while freeing up IT.
Enhance cross-estate visibility
Seeing all your cybersecurity in one place, with one source of truth, enables you to see what's going on in real time, while the ability to correlate traffic to users and computers extends your insight and enables you to address issues.
Enhanced insights
Identify all network traffic – if XGS Firewall sees an application that doesn't match a known signature, Sophos Intercept X provides the application name, patch, and category. Link traffic to individual computers and users.
Easy deployment
No additional subscriptions are required. You can start wherever you like – for example, with Intercept X endpoint protection – and add more products as and when you are ready.
Featured Product Portfolio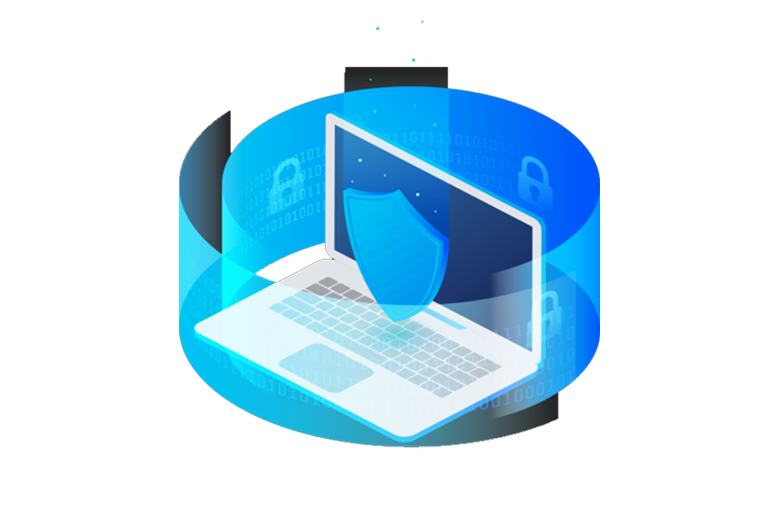 Managed Threat Response (MTR)
Sophos Managed Threat Response (MTR) provides 24/7 threat hunting, detection, and response capabilities delivered by an expert team as a fully-managed service.
Sophos MTR is built on top of Intercept X, the world's best endpoint protection. However, for those organizations who want to retain their non-Sophos endpoint protection platform, Sophos Managed Threat Detection offers an alternative solution.
Managed Threat Detection provides threat monitoring and detections that existing third-party endpoint protection solutions may miss. The service is compatible with third-party endpoint protection products, which means organizations can continue to use their current endpoint protection while still being monitoring by Sophos MTR experts in "Notify" only mode.
Sophos MTR goes beyond the endpoint adding in telemetry from other sources including network data, and cloud data. By extending visibility MTR operators can enrich endpoint investigations, better detect suspicious activity, and quickly neutralize active threats.
Sophos Extended Detection and Response (XDR)
Intercept X Advanced with XDR goes beyond the endpoint, pulling in rich network, email, cloud and mobile data sources to give you an even broader picture of your cybersecurity posture. You can quickly shift from a holistic view down into granular detail. For example:
Cross reference indicators of comprise from multiple data sources to quickly identify, pinpoint and neutralize a threat
Use ATP and IPS events from the firewall to investigate suspect hosts and identify unprotected devices across your estate
Understand office network issues and which application is causing them
Identify unmanaged, guest and IoT devices across your organization's environment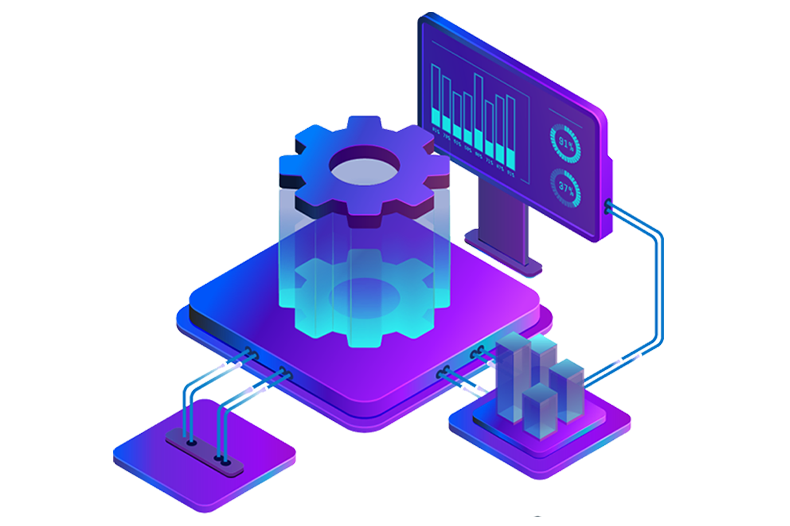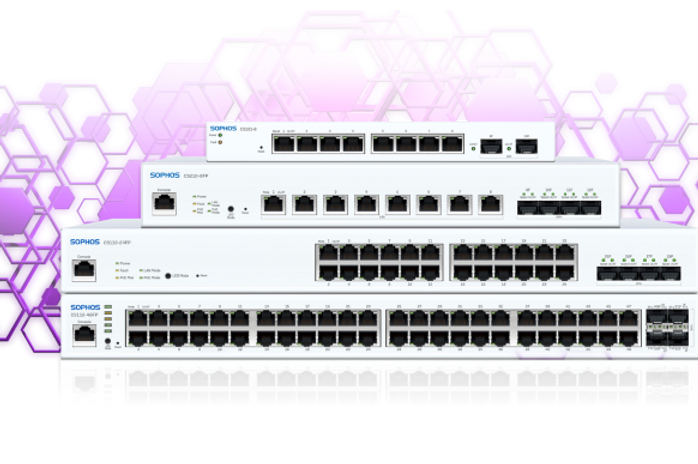 The New Sophos Switch Series
The Sophos Switch Series provides secure, scalable Ethernet access for your wired and wireless devices and puts your LAN connectivity fully under your control.
The Sophos Switch Series offers a range of network access layer switches to connect and power the devices connecting to the Local Area Network (LAN), while adding security controls and segmentation at the all-important LAN edge.
Sophos offers two different series within the model range:
100 Series models offer 1 GE ports plus either SFP or SFP+.
200 Series models are equipped with 2.5 GE and 1 GE ports plus SFP+ (varies by model).
Each series includes models with 8, 24 and 48 ports.
XGS Firewalls Running Xstream Architecture
Sophos Firewall's Xstream architecture protects your network from the latest threats while accelerating your important SaaS, SD-WAN, and cloud application traffic.
TLS 1.3 Decryption


Remove an enormous blind spot with intelligent TLS inspection that's fast and effective, supporting the latest standards with extensive exceptions and point-and-click policy tools to make your job easy.

Deep Packet Inspection


Stop the latest ransomware and breaches with high-performance streaming deep packet inspection, including next-gen IPS, web protection, and app control, as well as deep learning and sandboxing powered by SophosLabs Intelix.

Application Acceleration


Accelerate your SaaS, SD-WAN, and cloud traffic such as VoIP, video, and other trusted applications automatically or via your own policies, putting them on the Xstream FastPath to optimize performance.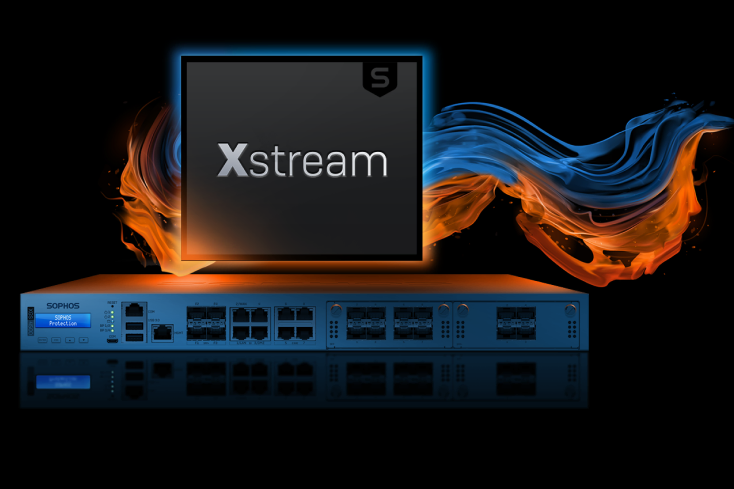 Why 
Bluechip

 and 

SOPHOS

?

Technical Pre-sales and dedicated Sophos staff.
Sophos Distributor of the Year 2019, 2020.
MSP focused Distributor.
Why 
SOPHOS

?

Sophos makes Security Simple.
Global Leader in End-to-End IT Security.
Gartner Leader in both Endpoint protection and Firewalls.
Synchronised Security – Connects endpoint & firewalls to maximise traffic visibility.
24X7 Support – with Tech support based in Australia.
MSP Monthly and Annual Termed licensing available.
Connect with Bluechip IT-Sophos Today!
Tap into our experienced product specialist and book a time to discuss your technological requirements. Let's innovate the ever-so-changing world of technology together.